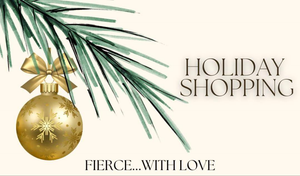 Upcoming Event

We are inviting our customers and their friends to join us for an evening of holiday shopping and socializing at our boutique on the evening of December 6th. 
We have invited several local women-owned businesses to offer their products for sale during this event. Fierce…with Love will be offering  a 20% discount on all of our merchandise purchased on the night of the event. 
There is no cost to attend but RSVP tickets are required.  Our boutique space is limited and we want to make sure everyone has space to move about, shop, visit, and learn from our vendor guests.
Confirmed Guest Vendors for the Event: